Essential fatty acids and health
Published: January 26, 2023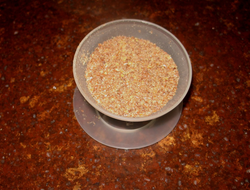 Advertisements for many nutritional supplements often imply that our diets are devoid of essential nutrients.
Claims about the value of nutritional supplements refer to poor soil nutrition, the use of pesticides, and a toxic environment.
These conditions some how make it "necessary" for us to supplement our
diets
with an array of nutrients.
Especially those that are nutritionally essential: that is, are not synthesised by your body.
Omega-3 and omega-6 are essential
fatty acids
which can be sourced from a variety of foods.
However, supplementation of these fatty acids has become very popular.
Fish oil
and flaxseed oil are common forms of supplemental omega-3 fatty acids.
Some manufacturers market omega-3 with omega-6, as well as with omega-9.
Claims are made about the exact ratio we should ingest and the
health benefits
you can get by using these products.
But are these supplements necessary? What do you know about these
fatty acids
? Perhaps you have enough in your diet? Can you have too much?
What are omega-3 and omega-6 fatty acids?
Omega-3 and omega-6 fatty acids refer to two groups of unsaturated fatty acids which belong to the omega family of fatty acids.
They are named in accordance with their chemical structure...linkto the full article to learn more about essential fatty acids and health.
References
1.
Horton et al. (2002). Principles of Biochemistry (3rd Ed.). Upper Saddle River, NJ. Prentice Hall
2.
. Whitney, E. & Rady Rolfes, S. (2005). Understanding Nutrition. Belmont, CA: Thomson Wadsworth
3.
Gropper, S.S., Smith, J.L. & Groff, J.L. (2005). Advanced Nutrition and Human Metabolism (4thEd.). Belmont, CA: Thomson Wadsworth.
4.
Centre for Science in the Public Interest: NutritCSPI 05/2011, 12/2010, 09/2011, 12/2006, 04/2010, 01/2013 10/2007, 05/2010, 01/2011, 02/2013, 11/2013, 09/2012, 03/ 2013ion Action Health Letter