Eat Well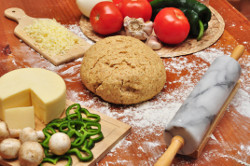 What is eating well?
When you "eat well" your diet will provide you with all the nutrients that your body needs for optimal health.
Typically the word "diet" is associated with weight loss, but in reality diet refers to the food and beverages that a person eats and drinks on a day-to-day basis.
A healthy diet should support health and since maintaining a healthy body weight is a key component of health eating well may mean eating to increase, decrease, or maintain your body weight.
So how do you eat well?
So which nutrients and how much of them do you need to consume to be "eating well"? There seem to be so many healthy diets to choose from. How do you know which is the right one for you?
The first step is to learn about the nutrients out there, what they do and where you get them, the second step is to create a menu that incorporates the ingredients that contain optimal amounts of nutrients but still tastes good and the final step is to use cooking methods that promote good health.
As well as containing the right amount of nutrients a healthy diet also considers eating patterns and should incorporate the bigger picture of your personal perspective of health. Healthy eating should be enjoyable, free from guilt and incorporate your social, cultural, and traditional values.
How we help
Articles in this section cover topics that involve the foods and beverages which will provide your body with all the nutrients that are required to enable your body to function at its best including:
Nutrient requirements
Macro and micro nutrients
Food, beverages and the nutrients they contain
Healthy food choices
Food selection
Menu planning
Cooking methods
Our articles and courses will help you determine the foods and beverages which support health, and how you can develop your own "eat well" diet. You will also learn how to determine whether popular diets support health in the long term.
Whether you sign up for 1 month or one year you get 1 month free right at the start so that you can investigate articles and courses, and ask us questions about eating well. 1 month may be all you need to set up your "eat well" diet.