Sugar substitutes: Quick facts
Published: July 04, 2014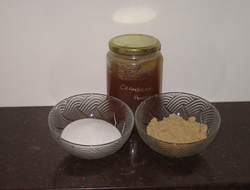 Sugar
consumption has increased dramatically in recentt decades and over consumption of refined sugars is now considered to be associated with increased rates of obesity,
diabetes
type 2, and
heart disease
.
Keeping refined sugars to a minimum in your your
diet
can benefit your
health,
but are the alternatives, sugar substitutes and artificial sweeteners, any healthier?
Sugar substitutes or artificial sweeteners provide sweetness without the accompanying
calories
. In general, sugar substitutes and artificial sweeteners are many times sweeter than table
sugar.
Some are several hundred times sweeter which means that much less of the sweetener is required to provide the same sweetness as regular sugar.
Sugar substitutes are available as artificial sweeteners, sugar replacers and natural sweeteners.
Artificial sweeteners
There are several different artificial sweeteners that have been tested for safety and toxicity and approved for use up to the Acceptable Daily Intake (ADI) in Canada and/or the USA.
The ADI is an estimate of the amount of a sweetener that you can safely consume on a daily basis without causing adverse effects. These sweeteners include:
Acesulfame-K (acesulfame potassium)
Aspartame
Cyclamate
Saccharin
Sucralose
Neotame
Tagatose
Artificial sweeteners have a variety of applications. Some are used as "table top" sweeteners for tea, coffee or added to cereals and fruit. In the food industry artificial sweeteners are used to replace sugar in a variety of products which are usually marketed as being "sugar free" or "low in sugar".
Sugar replacers
Some sugar substitutes are known as sugar replacers which describes a group of sugar alcohols used in "sugar free" foods. Sugar alcohols provide far fewer calories per gram than sucrose and are found naturally in vegetables and fruits. Sugar replacers include:
Erythritol
Isomalt
Lacitol
Malitol
Mannitol
Sorbitol
Xylitol
Natural sweeteners
Honey, maple syrup, high fructose corn syrup, treacle and molasses are natural sweeteners used to sweeten foods and beverages, but like sugar provide additional calories with few other nutritional benefits.
Stevia is a herb which is used as an alternative to sugar. Traditionally it has been used by the people of South America as a food sweetener. Since stevia does not contain sucrose, using stevia as a sweetener does not add calories to you diet.
Although stevia products have been approved for consumption by the FDA there are some concerns about the safety of these products and more long term studies are required to better understand implications for long term use.
Another sweetener which is currently popular as a "healthier" alternative to sugar is agave. Agave can replace sugar in many foods and beverages, but whether it is "healthier" than sugar is debateable since the fructose content of some agave products is greater than that of sucrose.
Although agave syrup has a lower
Glycemic Index
factor (due to its high fructose content and lower glucose content), like other natural sweeteners agave syrup also provides additional calories with few other nutrients.
Both stevia and agave products are highly processed.
Fructose
has become a sugar of concern in recent years as it may be implicated in several
health disorders
, such as metabolic syndrome and hyperinsulinemia.
The real thing or a substitute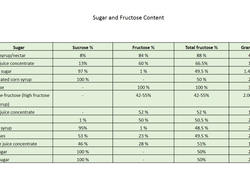 Sugar substitutes have been in use for many years and artificially sweetened beverages have been promoted as a means to combat
weight
gain. However, it cannot be taken for granted that consumption of sugar free, sweetened beverages will automatically help you achieve
weight
loss.
Some research studies suggest that people who consume artificially sweetened beverages may actually eat more than if they had a sugar sweetened soda!
The use of some artificial sweeteners is controversial and research into the safety of the short and long term use of artificial sweeteners is ongoing. If you are concerned about the safety of sugar substitutes you may want to consider reducing the added sugar in your diet instead of replacing it with a substitute.
Nutrition fact
labels can help you identify sugar substitutes and sugar that is added and will be listed on the ingredient list. Sugar is added to a wide variety of food products, not just products you expect to be sweetened.
If you add sugar to tea, coffee, cereal or fruit you can reduce the amount of sugar you add. Do it slowly, e.g. reduce by 1/4 teaspoon a week and before long you'll not be adding any sugar to these items.
Reducing the amount of cookies, cakes, donuts, candies and desserts that you consume will also reduce the amount of added sugar you consume and help tame your sweet tooth.
Follow the link to our in-depth article "
Sugar substitutes"
for more detailed information about these food additions.
References
1.
Whitney, E. & Rady Rolfes, S. (2005). Understanding Nutrition. Belmont, CA: Thomson Wadsworth